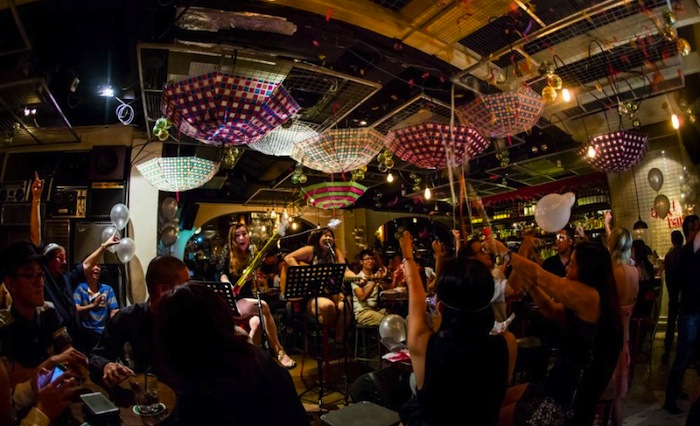 (Credits)
All you single ladies and lads, happy holidays don't get much better than the upcoming one this Christmas! We're talking about one long weekend after another – a whole lot of time to discover the Christmas magic with a new special someone. And what better place is there than town? Whether you're a morning, afternoon or evening person, here are 25 places in Singapore to meet singles in time for the holiday season.
Morning
1. McDonald's Forum Galleria
(Credits)
Ever considered offering your hash brown to the cutie sitting across from you? They say a good deed always leads to more. So get down there for some breakfast. You never know who you may find.
Address: 583 Orchard Road, #B1-25/33 to 35 Forum The Shopping Mall, Singapore 179097
Opening hours: 24 hours
2. Arteastiq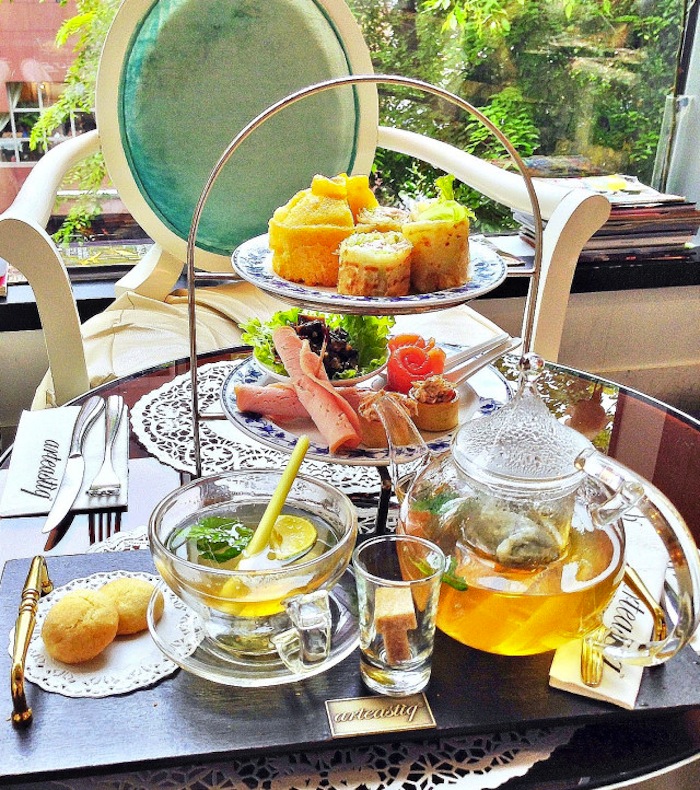 (Credits)
Does it matter whether you generally want to appreciate the art or just want to have a laugh? A shared laughter and some delicious bites are a great way to start the morning with a date.
Address: 333A Orchard Road, #04-14/15 Mandarin Gallery, Singapore 238867
Opening hours: 10am to 10pm (Daily)
3. Starbucks Pacific Plaza
(Credits)
Shall we enjoy our coffees together? That's what caffeine aficionados do, apparently. I'm sure your date will understand.
Address: 9 Scotts Road, Singapore 228210
Opening hours: 24 hours
4. Nike Orchard Central
(Credits)
When two run as one, they leave the world behind. That's why a little fashion advice to a lovely stranger never hurt.
Address: 277 Orchard Road, #03-10 Orchard Gateway, Singapore 238858
Opening hours: 11am to 9pm (Daily)
5. PS.Cafe at Palais Renaissance
Breakfast or brunch, here's somewhere to linger together and watch the world rush by.
Address: 390 Orchard Road, Palais Renaissance, Singapore 238871
Opening hours: 11.30am to 11pm (Monday to Thursday), 11.30am to 12am (Friday), 9.30am to 1am (Saturday), 9.30am to 11pm (Sunday)
6. Paragon Market Place
"Hey, do you know if this might be a good pasta brand?" Use this as an opener when you meet someone attractive at Paragon Market Place. People are happy to share their expertise with friendly kindred spirits.
Address: 290 Orchard Road, Paragon, Singapore 238859
Opening hours: 10am to 10pm (Daily)
7. Shaw Lido
This may come as a surprise, but some people do head to the movies alone. It's rare, but if you find someone, you'll already have something in common to talk about.
Address: 350 Orchard Road, 5th/6th Floor, Shaw House, Singapore 238868
Opening hours: 10am onwards (Daily)
Afternoon
8. Brussels Sprouts
You both can't be in Europe this Christmas, but one of you can suffer as the try-hard. Heading to Brussels Sprouts is a simple way to fool yourselves.
Address: 80 Mohamed Sultan Road, #01-12 The Pier at Robertson, Singapore 239013
Opening hours: 2pm to 12am (Daily)
9. MUJI@313
"Konichiwa. Watashiwa (insert name) desu." Self-introductions are good icebreakers – and more so, if it's a cheeky one that reveals your obsession with Japanese culture.
Address: 313 Orchard Road, #B2 -38 to 41 & 47 to 49, 313@Somerset, Singapore 238895
Opening hours: 10am to 10pm (Daily)
10. KPO Cafe Bar
(Credits)
Forgotten does not mean desolate. Both parties can endure the stares together as newcomers in an old timer's haunt at KPO Cafe Bar.
Address: 1 Killiney Road, Singapore 239518
Opening hours: 3pm to 1am (Daily)
11. TWG @ Ngee Ann City
Are you and your date still smashed from a night of debauchery? In that case, why not treat yourselves to an afternoon detox?
Address: 391 Orchard Road, Level 2 Takashimaya Singapore, Ngee Ann City, Singapore 238873
Opening hours: 10am to 9.30pm (Daily)
12. Food Republic Wisma
"Can I join you for lunch?" Approach a stranger with that line. It is totally out of the blue, but also an undeniably safe, tried and tested trick to scoring an impromptu date.
Address: 435 Orchard Road, Wisma Atria, Singapore 238877
Opening hours: 10am to 10pm (Daily)
13. Boomarang Bistro & Bar
To lepak by the river and ruminate on your existence with a similar mind could be one of the luxuries this holiday season. And where better to do that than at Boomarang?
Address: 60 Robertson Quay, #01-15 The Quayside, Singapore 238252
Opening hours: 7am to 3am (Daily)
14. Cuscaden
Wings and beer lovers will know this no-nonsense restaurant. Put all pretense aside and get your hands dirty together!
Address: Ming Arcade, 21 Cuscaden Road, #B1-111, Singapore 249720
Opening hours: 3pm to 2am (Daily)
15. Oasis Restaurant
Life must be enjoyed without limits. That's the new you speaking, the one with a big fat bonus in a rather generous mood. Charcoal-fired grills, beer, wine, margaritas… whatever. Take your pick.
Address: 10 Scotts Road, Grand Hyatt Hotel (Level 5 Terrace Wing), Singapore 228211
Opening hours: 5.30pm to 9pm (Daily)
Evening
16. The Mad Men Attic Bar
The night is just beginning. Bring your friends along. It doesn't matter. Everywhere you turn, a happy face is there to greet you at this rooftop bar.
Address: 11 North Canal Road, #03-02, Singapore 048824
Opening hours: 5pm to 3am (Daily)
17. The Black Swan
Opulent doesn't even begin to describe the interiors of this fine establishment. And perhaps that's a different side of the Christmas magic you and your date can enjoy together.
Address: 19 Cecil St, Singapore 049704
Opening hours: 11.30am to 1am (Daily)
18. Bar Le Noir
Welcome to the land of opportunity. Action is at every corner, and the single folk are just waiting to be approached.
Address: 3C River Valley Road, Clarke Quay, Singapore 179022
Opening hours: 4pm to 3am (Daily)
19. Acid Bar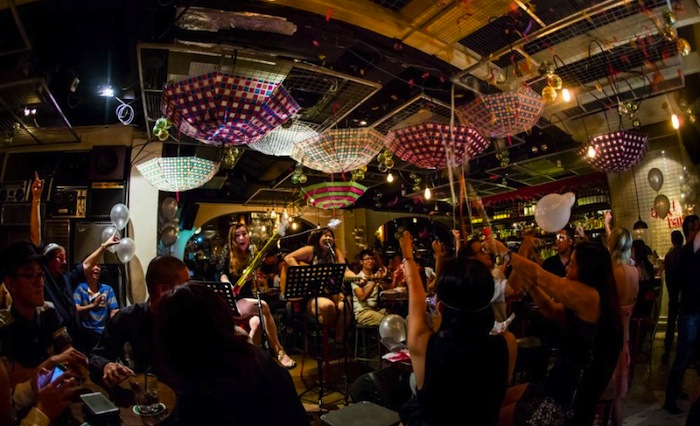 (Credits)
With tons of tasty tipples to indulge in and acoustic Christmas tunes in the background, starting a conversation with a stranger here will be a piece of cake.
Address: 180 Orchard Road, Singapore 238846
Opening hours: 5pm to 3am (Daily)
20. Tanuki Raw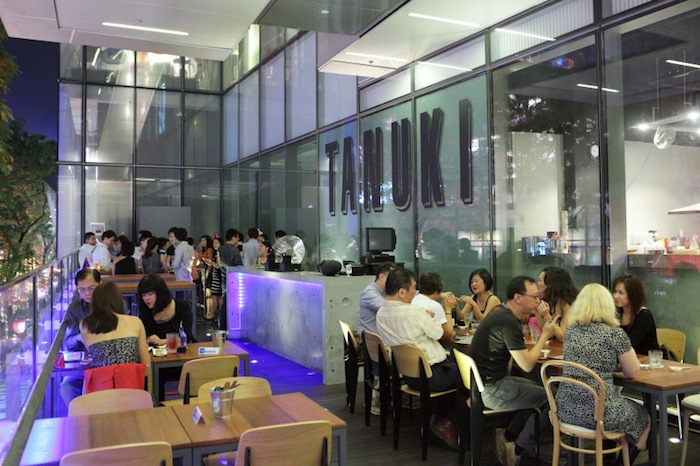 Forget that everyone's eating oysters. For one night, you can afford to be like them. If you guys aren't filled, there's always round two to be had.
Address: 181 Orchard Road, #04-01 Orchard Central, Singapore 238896
Opening hours: 11.30am to 10.30pm (Daily)
21. The Pump Room
Calling all singles! Here's a club to let loose in, dance around like a fool, and meet some new people.
Address: 3B River Valley Road, #01-09/10 Clarke Quay, Singapore 179021
Opening hours: 5pm to 3am (Daily)
22. Sanpoutei Ramen
Not only is the Christmas-worthy ramen of this joint worth the long wait in line, you might get an opportunity to chat up the cutie in front of you in the meantime too.
Address: 350 Orchard Road, Singapore 238868
Opening hours: 11.30am to 11pm (Daily)
23. Salt Grill & Sky Bar
(Credits)
A place where only the classiest of people gather, you might find something here that surpasses the beauty of the view outside – and we're not talking about the food.
Address: 2 Orchard Turn, #55-01 & #56-01, ION Orchard, Singapore 238801
Opening hours: 11am to 1.45pm, 2.30pm to 4.45pm, 6pm to 9.45pm (Daily)
24. Alps Cafe
Take a chance for a night to do something bold, and sing your heart out at this karaoke cafe. You might find someone who shares a favourite song.
Address: 38 Prinsep St, Singapore 188665
Opening hours: 5pm to 1am (Daily)
25. Izakaya Tamako
If you and your date enjoy a bit of mystery and adventure, on top of Japanese food, this somewhat hidden tavern is surely the place to be.
Address: 100 Orchard Road, Singapore 238840
Opening hours: 6.30pm to 2am (Monday to Saturday), Closed on Sundays
***
LunchClick is Singapore's first female-centric dating app, developed by the dating experts behind the Lunch Actually Group, the biggest dating agency in South East Asia with over 12 years of proven track record. LunchClick is perfect for serious daters and singles looking to find love – we're SDN (Social Development Network) accredited, and we manually approve all profiles to ensure that you only meet genuine & quality singles. No swiping, no chatting, just offline dates! What are you waiting for? Download the app on the Play Store or App Store today!