(Credits)
The end of the calendar year marks the season of giving. It can be tough picking out presents for the special people in your life, especially when you're on a budget. But you don't need to break the bank to gift something fun or meaningful. Whether you're shopping for friends or a significant other, hopefully you'll be able to find something good with this Christmas gift guide.
1. Biscuits
(Credits)
Yummy edibles always make fine gifts, and Crabtree & Evelyn's delicious butter biscuits come in an assortment of flavours that are sure to please all manner of tastebuds. You can get them in a number of packages, priced from $28, that come bundled with different flavours. Alternatively, you could get the tins of biscuits individually at $15 or $18 each, depending on the flavour.
2. Home Cooking
(Credits)
If you're a pro in the kitchen, you could even whip up your own meal instead. Cook a nice spread or bake your most delectable cakes and cookies, and there's no way your giftee won't be thankful for your tasty and heartfelt sincerity.
3. DIY Brownie Mix
(Credits)
For those delightful loved ones that simply love to bake, you can try your hand at making a brownie in a jar. The idea is to stack all the dry ingredients in a jar, and then include instructions so that the recipient can make the final brownies themselves. You can even append some Christmas well wishes to your tag with the instructions on it. (If you're not sure how to create this brownie mix, this video tutorial should help.)
4. Jams and Spreads
(Credits)
Naiise has a wide array of jams and spreads from companies like Straits Preserves and Shermay's. The best part about them is that they come in distinctive Singaporean flavours, such as Straits Preserves' Tropical Calamansi and Singapore Sling marmalades ($15 each), and Shermay's Singapore Meat Marinade and Sambal Hijau sauces ($9.95 each). These are especially perfect for non-local friends to get a taste of Singapore.
5. Tea
(Credits)
Speaking of Naiise, they also stock blends from Singapore boutique tea company Pin Tea. Their eclectic selection of Singapore-inspired flavours will immerse your giftee with the comforting taste of home in Singapore. Small tins (with 12 sachets) go for $19.25, while large tins (with 18 sachets) go for $26.75.
6. Starbucks Gift Card
(Credits)
If your giftee is more of a coffee person, or a regular at Starbucks (we all know friends like these), then a Starbucks gift card is a no-brainer. All you need is a minimum load of $10.
7. Colour Pencils
(Credits)
Remember how excited you were as a kid to receive a new box of fresh, sharp crayons to doodle with? Help your giftee relive that nostalgia with a box of Faber-Castell's vibrant colour pencils. They're especially useful for those who have jumped on the bandwagon of the "mindful colouring" trend. Available in 12, 24, 36, and 48 colours, these classic selections range from $4.07 to $16.37.
8. Travel Mug
(Credits)
IKEA sells travel mugs and vacuum flasks, starting at $9.90. Sleek and minimalist, these stainless steel mugs keep drinks at just the right temperature for hours. IKEA is renowned for providing a better home experience, so your loved ones will be reminded of home too when they enjoy a nice beverage from an IKEA mug.
9. Sleep Mask
(Credits)
We maintain really hectic and fast-paced lifestyles here in Singapore, and sometimes getting a good night's sleep can be pretty tough. MINISO sells comfortable and adorable sleep masks for only $3.90 that will guarantee your giftee a smooth journey to dreamland.
10. Neck Pillow
(Credits)
They also sell great neck pillows that are both firm and comfy. For the frequent traveller or the workaholic routinely bent over a desk, these neck pillows will soothe the aches on their necks and they will thank you for it. Prices range from $3.90 to $9.90.
11. Monogrammed Luggage Tag
(Credits)
It's no secret that Singaporeans love to travel – it's almost a national pastime. So for the loved one who's always travelling, gift them a personalised luggage tag so that a part of you is always with them while they're on the go. Just get your art supplies together – paper, cardboard, string, steel wire loops, ribbons, clear plastic card holders – and craft something sweet and meaningful they can remember you by.
12. Notebook/Sketchbook
(Credits)
Some people still like to jot down notes on paper, and new notebooks mean that everything immediately becomes super-efficient and organised. For the more artsy folk that prefer to sketch out their ideas, you can opt for a sketchbook instead. Moleskines are rather overpriced, but you can find some good notebooks and sketchbooks at Art Friend and MUJI for under $30. If you want to go the extra mile, you can even personalise the covers with designs that will appeal to your giftee. And here's a fun tip: Write or draw something heartfelt on the very first page. It will be the first thing the recipient sees when they open the book.
13. Cactus/Bonsai
(Credits)
Is there any greater gift than the gift of life? No, I'm not talking about a baby. And a pet might be too much responsibility. So why not consider something more low-maintenance like a cactus or a ginseng ficus? IKEA sells both at $12.90 and $7.90 respectively.
14. Soft Toys
(Credits)
IKEA also sells a bunch of soft toys – from dogs to cats, polar bears to sharks – that make great cuddly companions in bed. The big ones start from $19.90 while the smaller ones start from $9.90. With IKEA's "Play For Change" movement, which donates $1.50 for every toy you purchase from 20 November to 24 December, you can spread some extra Christmas joy while doing your shopping too.
15. Washi Tape Vases
(Credits)
You can help brighten up someone's home by gifting them a colourful, personalised washi tape vase that they can use to store flowers, stationery, or just all sorts of knick-knacks. Simply take any drab bottle, vase or mason jar, and add strips and/or speckles of washi tape to them. You can find some nice washi tape options from Naiise at $5.90 or at Tokyu Hands starting from $2.60.
16. Personal Pampering Items
(Credits)
For those loved ones that love spa treatments, you can get them the goods to replicate the experience at home. Marks & Spencer's best-selling beauty gift, the Floral Collection Mixed Hand & Nail Creams, is a pretty good purchase at just $19.90. It'll leave your giftee with skin that's not just soft and smooth, but beautifully scented as well.
17. DIY Coupon Services
(Credits)
Write or print your own handmade coupons for simple tasks, like nail painting or a massage, redeemable by your loved ones. These are great because not only are you saving yourself money from buying stuff, but you're donating your precious time to your giftee and letting them know they matter.
18. Scented Candles
(Credits)
For that yoga-centric friend, or maybe just as a little something-something for your mum, go for some scented candles that are sure to create a serene atmosphere and even give meditation sessions a boost. Yankee Candle has some delightful signature fragrances that go for $4.90 each. They even offer festive fragrances like "Sparkling Snow" and "Midsummer's Night".
19. Netflix Subscription
(Credits)
Know someone that loves to Netflix and chill? Perhaps a Netflix subscription (extension) would make a suitable gift. A Netflix subscription will cost between $11 and $17 a month to access Netflix's library, depending on how many devices are sharing the account.
20. Books (Vouchers)
(Credits)
What better way is there to spend the holidays than by cosying up with a good book? For the bookworms in your life, get them a good book you think they might like. If you don't want to take any chances, you could always get them book vouchers instead. Kinokuniya has book vouchers available in $5, $10, $20, and $50.
21. Nanoblocks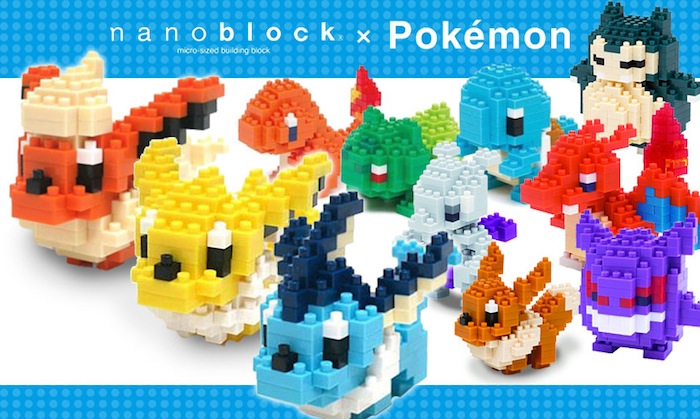 (Credits)
Between Pokemon Go and Pokemon Sun/Moon, this ever-popular franchise hit the world pretty hard this year. And whether you're a fan or not, you've got to admit that the little critters are pretty cute. Pokemon Nanoblocks are fun and moderately challenging puzzles that encourage your giftee to get handy and build something out of these Lego-esque blocks (and who doesn't love building blocks?). If you don't fancy Pokemon, Nanoblocks come in plenty of other designs as well. You can find them going for $13.90 a set at a myriad of places like Action City and Kinokuniya.
22. Movie Jewellery
(Credits)
The Harry Potter franchise has also had an amazing year, with the release of Harry Potter and the Cursed Child and Fantastic Beasts and Where to Find Them. There are many Potterheads in our midst and I'm sure they would appreciate cool trinkets like the Time Turner necklace or Deathly Hallows pendant, which can be found at Poster Hub for $12 a piece.
23. Nerf Gun
(Credits)
It doesn't matter how old you are. You have to admit that Nerf guns are pretty fun. In a survey done by Lazada Singapore and SurveyMonkey, it discovered that 31% of Singaporeans were keen on receiving a Nerf gun as a present. You can buy them at Toys R Us, with basic ones starting at $9.99.
24. Wine
(Credits)
I know what you're thinking – "Wine? But I'm on a budget!" Well, you can actually find some pretty good selections in Cold Storage and NTUC FairPrice outlets going for as low as $20. And if you're lucky, your giftee can invite you over to share the wine, instead of going out and spending money on drinks.
25. Socks
(Credits)
It's true that most folks don't enjoy receiving socks for Christmas. But Freshly Pressed's vibrant and colourful designs add a refreshing spin to outfits. Each pair of their socks is designed with a specific character or personality in mind. These are socks you won't be embarrassed to give away or receive for Christmas.
***
LunchClick is Singapore's first female-centric dating app, developed by the dating experts behind the Lunch Actually Group, the biggest dating agency in South East Asia with over 12 years of proven track record. LunchClick is perfect for serious daters and singles looking to find love – we're SDN (Social Development Network) accredited, and we manually approve all profiles to ensure that you only meet genuine & quality singles. No swiping, no chatting, just offline dates! What are you waiting for? Download the app on the Play Store or App Store today!