(Credits)
Christmas, thought of also as a time for love, is nigh. And what better way to ring in the season than with a romance-themed movie marathon on Netflix? Whether you're reserving the whole couch for yourself or binge-watching rom-coms with your better half, rekindle that warm, fuzzy feeling with these 25 films, as you count down to the 25th of December.
1. Love Actually
(Credits)
It doesn't feel like Christmas without a screening of Love Actually, an ensemble movie about the greatest gift of all – love. A British writer proposes to a young Portuguese housekeeper, despite the language barrier, a best man confesses his love to the bride "without hope or agenda" knowing nothing can happen between them, and the universe collectively goes, "aww".
2. The Notebook
(Credits)
One of romance king Nicholas Sparks' masterpieces, The Notebook carries the common trope of the forbidden love between a rich girl and a poor boy, but takes it to a whole new tear-inducing level through the power of storytelling – and you don't have to be a fan of mushy romance novels to enjoy this.
3. Titanic
(Credits)
Ah, Titanic – an epic tale about a real ship that sunk in 1912 and a fictional love affair, again, between an upper-class lady and a penniless artist. Though tragic through and through, the film is remembered for its heart-warming sequences that never grow old.
4. Before Sunrise
(Credits)
The first and the dreamiest of the romantic drama trilogy by Richard Linklater, Before Sunrise is about two strangers who meet on a train and spontaneously decide to spend a day in a foreign city together. It is the kind of adventure every romantic dreams of, and now you can experience it vicariously through Ethan Hawke and Julie Delpy's characters.
5. Pretty Woman
(Credits)
This rom-com is like the story of Cinderella, except this time, the leading lady (Julia Roberts) is a streetwalker who spends a night with a wealthy businessman (Richard Gere). Don't be fooled by the crude premise, though. It's more endearing than you might expect.
6. Breakfast At Tiffany's
(Credits)
Besides the sugary-sweet chemistry between Audrey Hepburn and George Peppard, look out also for the unorthodox items in Holly's possession (a bathtub sofa, a pair of tasselled ear plugs, etc.) that you wish you owned.
7. The Sound of Music
(Credits)
While narrative of this musical film focuses on the Von Trapp family of singers (an actual family), it also tells a charming story of how a nun becomes a governess for a family and subsequently finds love in an unexpected place.
8. Dead Again
(Credits)
The epitome of OTP manifests itself in a tale of love reincarnated. Directed by Kenneth Branagh, who also plays the male protagonist, this murder mystery and romance drama revolves around a detective and an unspeaking woman haunted by recurring nightmares of a famous composer from the 1940s who kills his wife.
9. Romeo + Juliet
(Credits)
With all the original dialogue intact, this hyper-stylised, modern take on the classic Shakespeare love story of Romeo and Juliet is unlike any other romance film. Directed by Baz Luhrmann, it is eccentric, bold and as gorgeous as the young Leonardo DiCaprio himself.
10. The Great Gatsby
(Credits)
Another one by Baz Luhrmann, The Great Gatsby is a visually majestic filmic marvel, adapted from the novel of the same name by literary legend F. Scott Fitzgerald, and is basically about the undying love one man harbours for a woman he can't have.
11. 50 First Dates
(Credits)
Adam Sandler plays a libertine animal doctor who develops feelings for Drew Barrymore's character who can't remember what happened the day before. As a result, he embarks on a high-commitment journey to win her over day by day.
12. Notting Hill
(Credits)
Any fan of British heartthrob Hugh Grant will name Notting Hill, the BAFTA-approved 1999 romantic comedy starring Julia Roberts about a love affair between a prominent actress and an average joe, as his greatest work that propelled him to stardom.
13. How To Lose A Guy In 10 Days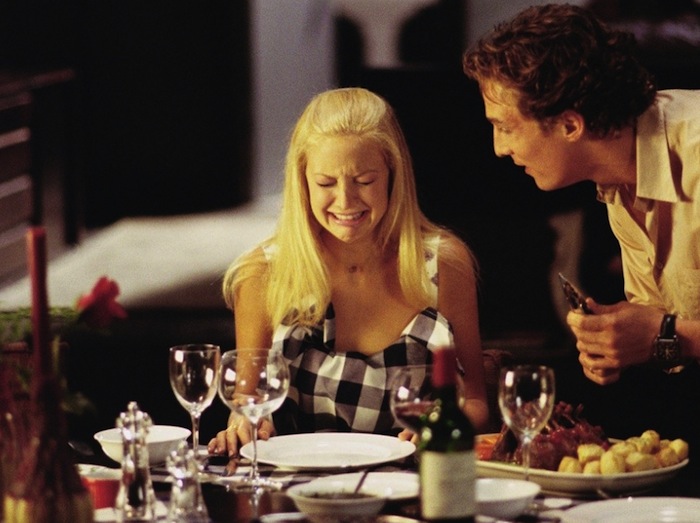 (Credits)
A hilarious rom-com about a guy who is trying to get a girl to fall in love with him in 10 days, while the same girl is doing the opposite to him in the same amount of time, this one's a definite must-watch chick flick.
14. Eternal Sunshine of the Spotless Mind
(Credits)
Eternal Sunshine of the Spotless Mind, an absolute work of art, is home to arguably the best dramatic performance by Jim Carrey. Its gripping sci-fi-tinged narrative revolves around two lovers, one of whom decides to erase every memory she's ever had of the other after a painful breakup. A word of caution: You'll need tissues.
15. Casablanca
(Credits)
A 1942 romance drama directed by Michael Curtiz, Casablanca is considered one of history's greatest films of all time (and not just in the romance department) with some of the most iconic lines ever written. The tear-jerker, set in Morocco during the Second World War, is at its core a story of love that has stood the test of time.
16. Roman Holiday
(Credits)
This lesser known oldie but goldie stars the fresh-faced and dewy-eyed Audrey Hepburn as a princess, who finds herself with an American journalist played by Gregory Peck. And let's just say, while this picture is in black and white, its romantic narrative is all-out polychromatic.
17. Dirty Dancing
(Credits)
Who could forget Dirty Dancing, the film that immortalised Patrick Swayze as a sex symbol? Combine two good-looking individuals with the sensual undertones of salsa dance, and you'll get a steamy tale of romance.
18. Moonrise Kingdom
(Credits)
More than young love, Moonrise Kingdom is about two prepubescent kids, innocent in their intentions, who escape their usual lives to be with each other in the wilderness. A clearly aesthetic-driven Wes Anderson film, the narrative sees the youthful couple experimenting with making out and dancing in their underwear (and no, this isn't a euphemism).
19. Punch-Drunk Love
(Credits)
Punch-Drunk Love is Hollywood's most severely underrated rom-coms, and the best thing that happened to Adam Sandler. Beautifully shot with a singular soundtrack and a heart-warming story, this is one not to miss.
20. Lost in Translation
(Credits)
Another indie classic is Sophia Coppola's Lost in Translation, in which Bill Murray and Scarlett Johansson with her iconic pink wig come together to form one of the oddest couples to have ever been conceived by the cinema. Among its many merits, the raw, heartfelt dialogue tops it all.
21. Moulin Rouge!
(Credits)
There's nothing like forbidden love. And this Baz Luhrmann masterpiece, which tells the story of a poet who falls for a courtesan, complete with over-the-top musical numbers and spectacular scenes, certainly hits all the right notes.
22. Seeking a Friend for the End of the World
(Credits)
An apocalyptic film that will without doubt put your life into perspective, it starts on a gloomy note, but ends on an oddly uplifting one with two perfect strangers finding a friend (and perhaps more) in each other.
23. Miss Pettigrew Lives for a Day
(Credits)
When an out-of-work governess steals a job from an employment agency (not knowing it's for a social secretary), and meets a perky, fame-hungry three-timing cabaret singer, a surprisingly substantial amount of romantic events ensue.
24. (500) Days of Summer
(Credits)
While the makers of this film say that this isn't a love story (and it's true – the whole narrative is about a guy who gave his heart to a girl and then got it smashed into smithereens), you can't help but admire the hope the protagonist has in finding love again.
25. WALL-E
(Credits)
We're well aware that this last one isn't your typical romance movie. For one, it is a Disney animation. But if you consider the relationship between WALL-E and EVE, two opposite robots, you'll realise it is in fact the greatest love story you've never heard of.
***
LunchClick is Singapore's first female-centric dating app, developed by the dating experts behind the Lunch Actually Group, the biggest dating agency in South East Asia with over 12 years of proven track record. LunchClick is perfect for serious daters and singles looking to find love – we're SDN (Social Development Network) accredited, and we manually approve all profiles to ensure that you only meet genuine & quality singles. No swiping, no chatting, just offline dates! What are you waiting for? Download the app on the Play Store or App Store today!