(Credits)
2016 has been a year of much anxiety and distress with dismal news dominating the headlines. This month, however, we turn the tables and place a spotlight on the many heart-warming events of the year that have perhaps slipped under our radar. Here are 25 stories that reignited our faith in humanity and made us believe true love exists.
(Credits)
1. An 18-year-old boy with Ewing's sarcoma, a rare kind of bone cancer, married his long-time girlfriend at the hospital where they first met. After the proposal, it didn't take long for the nurses to start planning for the wedding ceremony. Their history teacher even paid for their wedding rings as a gift to the newlywed couple.
(Credits)
2. Michael Jordan, the NBA basketball giant, donated an incredible $2 million to charity organisations that were dedicated to improving community-police relations, in hopes of extinguishing unnecessary police-related violence and shootings.
(Credits)
3. When a couple of property owners found out Charles Williams had a four-car garage, they decided to sue him on the grounds of allegedly running an illegal car repair business. However, Williams, who forked up nearly $30,000 in legal fees, said it's a non-commercial recreational pursuit. Upon hearing his story, throngs of strangers on the Internet banded together and raised over $45,000 on GoFundMe to give the guy a hand.
(Credits)
4. A little girl of four with the biggest of hearts befriended a glum old man at the supermarket, asking him for a picture together before leaving. It was the first time he smiled since the death of his wife.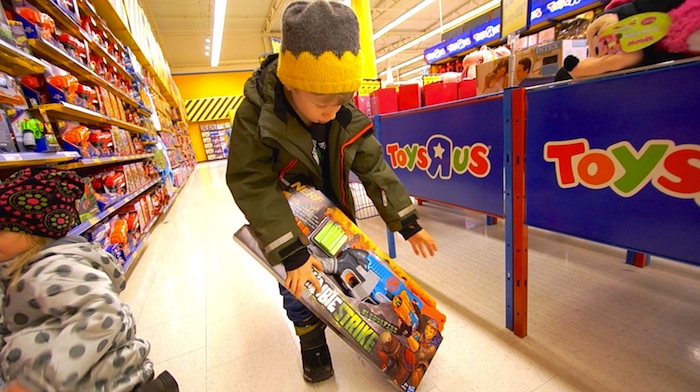 (Credits)
5. The UK outlets of Toys R Us held a "quiet hour of shopping" without any music, announcements or bright lights, so autistic children (as well as their parents) could shop in peace.
(Credits)
6. A homeless World War Two veteran died, and having no friends or family, her funeral only had four attendees. But when word got out about her situation, 200 strangers showed up to honour the life of this former military woman.
(Credits)
7. Many kids in the rural villages of Afghanistan have zero access to any form of education. So, a schoolteacher took it upon himself to deliver books by bicycle to those underprivileged children.
(Credits)
8. In an effort to save 80 endangered rhinos from poachers (and subsequent extinction), a retiree started a fund-raising project to airlift every one of those animals from South Africa to a safer home in Australia.
(Credits)
9. A father didn't want his daughter to miss out on Halloween and the thrilling ritual of trick-or-treating just because they were on a plane, so he discreetly handed out sweets to the rest of the passengers.
(Credits)
10. About 100 newborns from the neonatal intensive care unit (NICU) at the Arkansas Children's Hospital were given tiny Halloween costumes, hand sewn by volunteers, in the hope that they would create joyous memories for both the children and parents.
(Credits)
11. A group of villagers came together to save a baby elephant that was trapped in a muddy well, despite the risk of being attacked by its mother who had spent 11 hours trying to dig the baby out to no avail.
(Credits)
12. After teaching himself how to knit at 86 years old, an elderly man suffering from cancer devoted his days to making hats for premature infants. So far, he has knitted 55 caps, and isn't about to stop.
(Credits)
13. Despite wrongly inviting a stranger to Thanksgiving via text, a grandmother welcomed the teen to the gathering and saved a plate for him anyway, thus destroying the stigma of "stranger danger".
(Credits)
14. A woman offered to pay for all adoptions from an animal shelter in Sacramento, so that none of the cats and dogs will be homeless and alone during Christmas. Thanks to her, the number of visitors to the shelter spiked overnight.
(Credits)
15. In a town in New Zealand, penguins are often seen sauntering across busy roads to get to Oamaru Harbour, their home ground. To protect them from fatal crossings, an 80ft underpass was built, equipped with lights to guide the cuddly creatures towards the tunnel.
(Credits)
16. Before euthanising his ailing dog, a man from Cornwall invited anyone on Facebook to take a final walk with him and his pet along its favourite beach. Hundreds of strangers and animal lovers showed up.
(Credits)
17. A judge from North Carolina went a step further after sentencing an offender, who is also an ex-veteran suffering from PTSD, to jail for a day, entering the cell with him to ensure he gets the help he needs.
(Credits)
18. After an explosion went off in Manhattan, a Starbucks employee donated bags of Starbucks food and beverages to the policemen standing guard at the site.
(Credits)
19. Tonya, an employee of a credit card company, received a phone call one day from a woman whose card was mistakenly voided due to suspicious activity. After hearing about how she had been dumped by her fiancé, and therefore had to move out and get furniture for a new place, Tonya secretly sent flowers to the lady's ex's house to induce a bit of jealousy in him and exact some revenge on her behalf.
(Credits)
20. A teenager won a lucky draw for a year's worth of free pizza, but instead of keeping it all to herself, she donated each slice to the homeless youth from a local shelter in Detroit.
(Credits)
21. Yevette Vasquez is a single mother who found out one day that her son's elementary school was celebrating a "Donuts with Dad" day. Not wanting him feel left out in school, she decided to dress up as a man and pretend to be a Dad.
(Credits)
22. Piotr Małachowski, a Polish Olympic medallist, auctioned off the silver award he earned from the 2016 Rio Olympics to raise funds for a costly surgery for a three-year-old boy with eye cancer.
(Credits)
23. A compassionate group of students from the 5th and 6th grade at Bath Village School sacrificed their highly anticipated class trip to Boston, and gave the funds they raised for the outing to a 1st grade kid who lost his mother to cancer.
(Credits)
24. While shopping at a supermarket, a man spotted an elderly woman who was looking particularly depressed. Feeling compelled to do something about it, he struck up a conversation with her to cheer her up, and paid for her groceries, despite not knowing the cause of her sadness.
(Credits)
25. In response, when the daughter of the old lady learnt that the kind man is a waiter at an Applebee's restaurant, she visited him, ordered a glass of water, and left him a $500 tip, along with a thank-you note.
Now that you've had your fill of real-life stories of love, keep the warm, fuzzy feeling alive with some on-screen romance – we've selected 25 binge-worthy films, perfect for the holiday season.
***
LunchClick is Singapore's first female-centric dating app, developed by the dating experts behind the Lunch Actually Group, the biggest dating agency in South East Asia with over 12 years of proven track record. LunchClick is perfect for serious daters and singles looking to find love – we're SDN (Social Development Network) accredited, and we manually approve all profiles to ensure that you only meet genuine & quality singles. No swiping, no chatting, just offline dates! What are you waiting for? Download the app on the Play Store or App Store today!