(Credits)
LunchClick is the first dating app that is designed to encourage offline, face-to-face dates. Download it today!
***
Being in your early twenties can be a strange time in your life. There are those who are still schooling, serving NS, or working full-time jobs. Then there are those who are in the midst of planning a wedding, already married, or even settled down with kids.
"You're 22, and married? But you're still so young! Don't you want to enjoy life first?" This is the population's most common response to finding out someone barely an adult is already married. Getting married young isn't all that bad as most people may think. Don't let articles like "30 things to do before you get hitched" affect you and your life decisions. Whether you're on the fence about sealing the deal at a young age, or are just plain curious about what it's like to make that decision, here are seven things people don't tell you about marrying young.
1. It strengthens your relationship
Arguments are inevitable – heck, you will probably end up arguing a lot, especially over trivial matters. There's bound to be miscommunications and misunderstandings. After all, you're still learning things about each other, and figuring out the whole "adulting" situation as a married couple. Get ready to really know the deep ends of each other. It can be scary, but knowing you have your life partner there with you and for you can make things feel a lot better. Just remember: Always communicate and compromise when needed, and no marriage is ever perfect.
(Credits)
2. A little distance won't hurt
Distance does make the heart grow fonder. While meeting each other during lunch time can be nice, try to use this time to socialise instead with colleagues or friends who work or go to school nearby. Those catch-up sessions are probably long overdue anyway. If you don't feel like socialising, why not spend some time alone at the mall, or engaging in hobbies? We all need a little "me time" too. Some time apart from your companion will make you miss each other even more. And who knows, you may even have more stories to share when you come home after a long day!
(Credits)
3. Learn and grow as a married couple
Being young means there's still room for improvement. When you're in a committed relationship, it gives you the chance to mould and shape each other emotionally and physically as time goes by. Being the pivotal support when faced with some of life's biggest challenges can help you grow as a couple. The skills and experiences learnt will stay with you for the rest of your life.
(Credits)
4. Planning, planning, planning
Loads and loads of planning will be involved. From the wedding to the house-shopping to the first child, it never ends. It will be stressful, and it will be messy, especially when it involves financial planning. Will both your CPF money combined be enough for a BTO? Do you need domestic helpers? Should you invest in a car? Should you buy life insurance? And the most dreaded part – paying taxes. If only they taught us all of that in school.
5. Share experiences, and create memories together
Your life doesn't end when you tie the knot. Take urgent leave from work, and spend the day together roaming around the city. Call your single or unmarried friends up for dinner and drinks like you used to. Book a spontaneous weekend getaway to a nearby country. Have a second honeymoon. Or a third. Marriage is just the beginning of a new adventure, so who says you can't do fun things anymore when you're married?
6. You will lose some of your friends
Some may stay, and some may leave. Now that you're married, you will have less time for your single buddies. Your interests may change over time as well, and no longer be the same as your friends'. But hey, that's okay. Friends may not always be there for you 100 per cent, but your family sure will.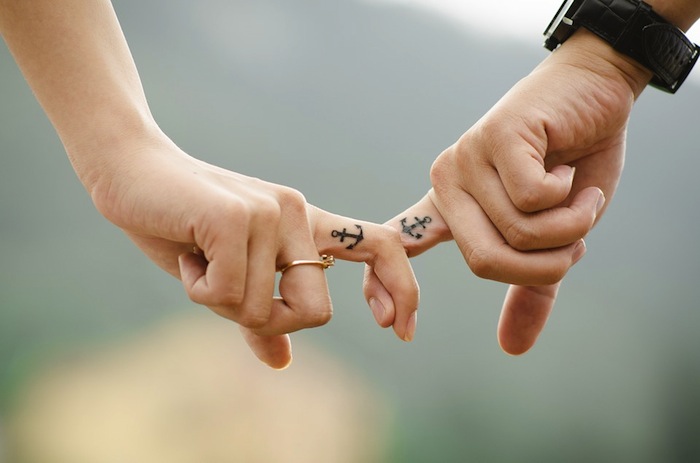 (Credits)
7. You have your whole lives ahead of you
Don't let the stress of having kids stop you from living your life. Already made the decision to have kids? I've got good news for you: by the time you're in your thirties, your child will most probably be off to university, while your fellow parent friends are still cleaning up after their toddlers. Once your kids grow up, you can (confidently) set aside time for date nights with your other half, and perhaps plan that second honeymoon you've always wanted. It's never too late for that.
The next time you meet someone who married young, don't feel weirded out by it. The grass is always greener on the other side anyway. Whether you're married at 20 or 30, don't let other people's opinions ruin the choices you make. This is just the beginning of one of life's great adventures.
***
LunchClick is Singapore's first female-centric dating app, developed by the dating experts behind the Lunch Actually Group, the biggest dating agency in South East Asia with over 10 years of proven track record. LunchClick is perfect for serious daters and singles looking to find love – we're SDN (Social Development Network) accredited, and we manually approve all profiles to ensure that you only meet genuine & quality singles. No swiping, no chatting, just offline dates! What are you waiting for? Download the app on the Play Store or App Store today!