LunchClick is the first dating app that is designed to encourage offline, face-to-face dates. Download it today!
***
The Greek philosopher Aristotle was tutor to Alexander the Great, who famously conquered a massive empire before he even turned thirty. Aristotle never claimed any particular credit for Alexander's achievements, but I figured there must be something worth listening to in what the man said. 😉
One of Aristotle's key ideas is that the ideal consists of the midpoint between two extremes. For instance, courage lies halfway between recklessness and cowardice; a brave person is not the one who fears nothing, but the one who feels the appropriate amount of fear and reacts appropriately to it.

(Credits)
In the spirit of "go forth and conquer", here are a few ways in which the philosophy of the golden mean might help all you ladies in love!
1. Appearance: dress nicely, but don't try too hard.
When I was just a teenager, I watched a Taiwanese game show where girls would do a half-face of makeup, following which everyone would gasp with shock at how different they were with and without their falsies, circle lenses and lip gloss.

(Credits)
The episode which stayed with me was the one where a teenage girl revealed her face (without makeup) to her older boyfriend for the first time. While I'll never forget how his face fell, it was the way hers did that left an impression on me. He couldn't hide his shock and she couldn't hide her disappointment at how he didn't find her attractive at all under all that powder.
The moral of the story is this: he's gonna have to see you with your "face" off at some point. Don't let your relationship become a case of false advertising!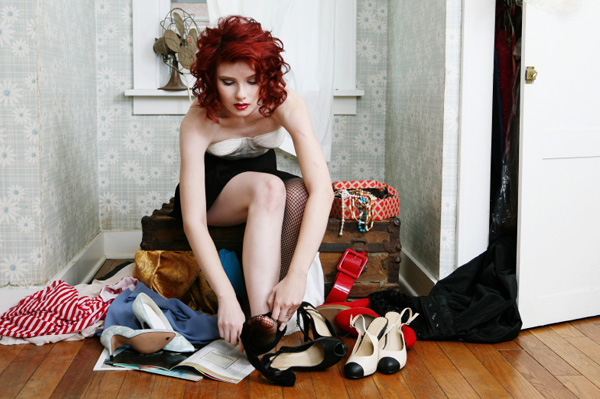 (Credits)
The other side of the golden mean, however, is that you should never show up to your date under-dressed. Sneakers and a t-shirt don't communicate to him "who you really are inside". The litmus test? Your friends should realise you've dressed up but you shouldn't be unrecognisable to them.
2. Sharing interests: don't lie, but make an effort.
Don't try and convince him that you share all his interests, from football to Hearthstone down to the manga Toriko, because firstly, he's not stupid – or at least you hope not – and he'll get suspicious. Besides, lying is never a good way to start a date.

(Credits)
Secondly, even if you make football stats your life and mainline all that manga within an evening, there's no point in you forcing yourself to "pick up" something you're not keen on because that's only going to sour the relationship.
On the flip side: don't dismiss him immediately just because he doesn't enjoy the opera and/or Pitch Perfect or Dostoevsky. All relationships are about compromise, and asking for someone to share all of your idiosyncratic interests is setting the bar too high.

(Credits)
What to do: talk about things that most people would be interested in – pop culture is always a good start – and narrow it down from there.
3. Paying for yourself: offer, but don't insist.
Don't be the girl who demands to go Dutch while delivering a tirade on why women should always pay for themselves. There are more elegant ways of making sure that you're holding up your end of the financial equation, such as offering to pick up the tab the next time.

(Credits)
At the same time, don't expect the man to whip out his credit card as though by instinct. It's the 21st century, ladies! Also, be warned against a subtler hypocrisy: don't offer to split the bill only to be offended when he takes you up on it. It's not fair at all!
Do it right: Offer sincerely, but don't kick up a fuss whether he acquiesces or not. There are other ways to pay him back and besides, if this is a deal breaker, just give the second date a miss.
4. Speaking of deal breakers – there's a golden mean for that too.

(Credits)
You can't go into a date with a specific list of make-or-break criteria ("Oh, you're not an investment banker with property on the Gold Coast? Next!") because reality doesn't work that way. Your perfect match doesn't exist, and it would be naive to think otherwise.
That being said, I once had to shake some sense into a friend who was in a relationship with a woman who was (1) living in another country, (2) unemployed, (3) still married (in the process of a divorce) and (4) taking care of "her sister's children". His justification? "Oh, I know it's not ideal, but she's a really sweet person."

(Credits)
I'm not a cynic by any means, but it's important to avoid clinging to people simply because you want to be in a relationship.
5. Lastly, the age-old conflict between interest and disinterest.
Some people will tell you to play hard-to-get. But if you do this, you risk pushing him away because he'll think you're not interested. Others will tell you that you should always take the lead in pursuing a guy! Yet that risks backfiring or coming across as being too easy.

(Credits)
 In this case, you'll have to proceed carefully. What's more, it also really depends on the guy you're hoping to date!
Aristotle might advise a cautious attempt at both approaches to see which one works out better. In practice, this may translate into accepting an advance and rejecting one before making one of your own. After you've acquired some data, you can better gauge his reaction to act accordingly.

(Credits)
And there you have it! The ancient philosophers did spend a lot of their time musing on the nature of humanity and human relationships, so here's hoping that the overarching principle of the golden mean will lead to success for your relationship too.
***
LunchClick is Singapore's first female-centric dating app, developed by the dating experts behind the Lunch Actually Group, the biggest dating agency in South East Asia with over 10 years of proven track record. LunchClick is perfect for serious daters and singles looking to find love – we're SDN (Social Development Network) accredited, and we manually approve all profiles to ensure that you only meet genuine & quality singles. No swiping, no chatting, just offline dates! What are you waiting for? Download the app on the Play Store or App Store today!